SAVE MONEY!!!!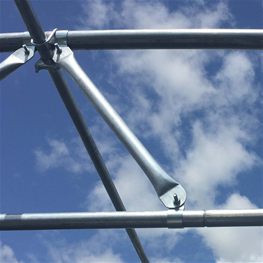 8' x 25' with 5' hoop spacing's
Buy the steel work and cover from us and buy the timber yourself locally
These kits are for the Hobby Gardener or Allotments who want to save money by buying the steel work and cover only.
This means you the customer would supply the timber for the door posts and also the base rail if you do not want to trench the cover into the ground , this will cut your cost down as buying timber locally will be a lot cheaper. It will also speed up the delivery process.
We supply these at 8' , 10' 12' and 14' wide by almost any length
Kits include
Standard ground tubes
25mm OD hoops
Set of crop bars (the amount depends on the length of structure)
Anti Hot Spot Tape
All galvanised Fittings
Fittings to enable you to fit doors
SuperThermic Cover
Fittings for base rails are not included , please ask for price if required
The ground tubes would have to be concreted in if using base rails.
CUSTOMER TO SUPPLY IF REQUIRED
Timber you will require for trenching system
3'' X 2'' Timber for door posts for each end.
Timber you will require for base rail system
3'' x 2'' or 4'' x 2'' Timber for base rails.
1'' x 1.5'' battens for fixing cover.
Timber required for doors
2'' x 2'' Treated timber.